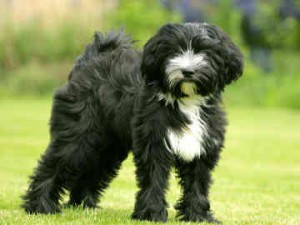 This breed of dog is a smart family dog with a very high maintenance hair not fur. Just like people hair, its has to be combed daily from root to tip. Can you imagine what your hair would look like it you only combed the tips once a month–avoiding the roots?
Here is a pelt of Tibetan hair matted fused together at the roots with nice straight stands on the right side in photo where, owner was brushing without metal comb. The hair should never come off in one piece. It's a haven for fleas, fungus, ticks and hotspots.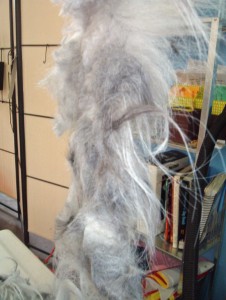 It seems to be a secret to prospective new owners not knowing what they are getting themselves into for the next 12-16yrs. Monthly I get stories from new clients in frustration not being told the TRUTH of coat care by their breeder. Unfortunately despite the benefits of low dander and low allergy does come at the cost of the the home grooming involved to keep your Tibetan's hair unmatted over ½ inch long. Some say that the adult coat is easier than puppy coat to keep up but its lots of work regardless.
Here is the TRUTH:
Fine tooth metal comb, root to tip daily to three times a week depending if your dog mats in a day or a in couple of days. Using a brush alone will NOT keep mats away especially if using the wrong type of brush.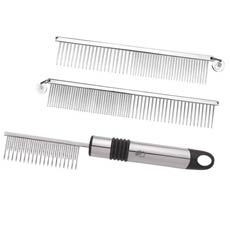 Most harnesses, clothing, flat collars, choke chains, burs, and outdoor activity will cause matting if hair is not dealt with daily.
Food and water need to be combed out of beard daily to prevent a sour mildew smell around the face area.
Grooming every 4-6 weeks will not avoid matting. Only daily home coat care will prevent this.
Common areas that I educate about matting are:
Armpits
Ears flaps inside and out
Jaws
Beard
Throat
Chest
Flanks
Inside all legs
Base of tail
Backs of legs
Ribs
Undercarriage
I wanted to blog the truth of this type of hair and know that if you are having problems with this that there is a solution that involves LOTS of daily care and detail along with the right tools. This coat care is also needed for ANY low shedding/low allergy type dog with over 1/2 inch of hair.